16 Qualities Every Good Lawyer Should Have in 2023; As the legal profession continues to evolve, it is important for lawyers to possess certain qualities that will enable them to succeed. In 2023, there will be sixteen qualities every good lawyer should have in order to remain competitive and successful.
These qualities will allow lawyers to excel in their work and ensure their clients receive the best legal services possible. The following blog post will discuss the sixteen qualities every good lawyer should have in order to continue to excel in the legal profession in the future.
1) The ability to think on their feet
In the legal industry, being able to think on your feet is essential for lawyers. This means that they must be able to quickly and effectively assess a situation and make decisions. In the courtroom, this skill is especially important as a lawyer may need to quickly respond to an opposing counsel or judge's query.
Research from the American Bar Association suggests that lawyers who can think on their feet are more likely to be successful than those who cannot. Furthermore, these lawyers tend to be better problem solvers, which is essential for working in the field of law.
2) excellent communication skills
Good lawyers must have excellent communication skills as they need to communicate effectively with clients, opposing counsels, witnesses, and the court. They should be able to comprehend complex legal topics and explain them in a simple, straightforward manner. Additionally, they must be good listeners in order to understand the needs of their clients and make sure they do not miss any important details.
Good lawyers should also be able to answer questions clearly, concisely, and without hesitation. Having strong communication skills can help a lawyer effectively argue their case in court or negotiate with the opposing counsel.
3) great research skills
Having great research skills is essential for any successful lawyer in 2023. Being able to research quickly and accurately can help lawyers assess the situation and make sure they are well-prepared for each case. To be a successful lawyer, one must possess strong research skills that include being able to efficiently find relevant information and synthesize complex legal material.
A lawyer must also be able to effectively identify pertinent facts and analyze data to formulate legal arguments. Research skills are especially important in areas of law such as criminal, constitutional, and tax law which involve significant amounts of precedent and statutory analysis. With access to an increasing amount of online legal databases, it is more important than ever for lawyers to have the ability to navigate and utilize these resources.
Read, Will lawyers be in high demand in the future?
4) superb writing abilities
A lawyer's writing skills are critical for success in the profession. A good lawyer must have superior writing abilities, such as the ability to express complex concepts in simple language, write compelling legal arguments, and draft documents such as motions and briefs.
In fact, according to a recent survey conducted by the American Bar Association, excellent writing skills were cited by employers as one of the most important qualities for a successful lawyer. Writing well is essential for attorneys to effectively communicate with their clients, colleagues, and the court.
5) strong critical thinking skills
Critical thinking skills are essential for lawyers in order to properly assess legal situations and come up with sound legal solutions. This involves analyzing information objectively and making decisions based on facts and evidence, rather than emotions. Good critical thinking skills involve being able to think logically, weigh different options, and make rational decisions.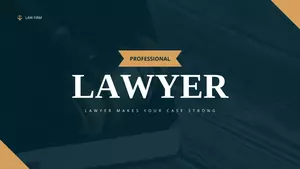 In addition, strong critical thinking skills allow lawyers to look beyond the surface of a problem to identify underlying issues and potential solutions. According to research conducted by the American Bar Association, attorneys who possess good critical thinking skills are more successful in their legal careers. Therefore, having strong critical thinking skills is an important quality that every good lawyer should possess in 2023.
6) sound judgement
Good lawyers need to be able to make tough decisions based on the facts presented to them and what their clients require. This requires sound judgement, and the ability to understand the legal landscape and identify how different aspects of a case fit into that landscape.
Good judgement can only be gained through experience and knowledge, which is why the best lawyers have decades of legal expertise and qualifications. Additionally, many lawyers must stay up-to-date on current changes in laws, regulations, and court decisions, as well as new technology and developments that may affect their legal practice.
7) being able to work under pressure
Being able to work under pressure is a key quality for any good lawyer. This means being able to handle the stress that comes with the job and still be productive. Lawyers often have to face tight deadlines, long hours, and difficult clients. It is important to be able to remain calm and focused when under pressure in order to get the job done.
According to a survey conducted by the American Bar Association, nearly 60% of lawyers reported having experienced high levels of stress due to their job in the last year. Being able to cope with the pressures of the profession is essential for anyone looking to succeed in the field.
8) being able to stay calm in difficult situations
The ability to stay calm under pressure is essential for lawyers, as they often have to handle difficult and stressful situations. A lawyer must remain composed in a courtroom setting and be able to think objectively and rationally in order to make the best decisions. According to a survey by the American Bar
Association, more than 80% of lawyers reported experiencing frequent stress at their job. As such, it is critical that lawyers possess the ability to remain composed in high-pressure environments, as this allows them to make decisions with poise and confidence.
Read, What Happens if You Fire Your Lawyer During Trial?
9) being able to negotiate
Negotiation skills are a must-have for any lawyer. Negotiation involves problem-solving, understanding the needs of both sides, and finding common ground. It requires being able to see the big picture and create a mutually beneficial outcome. According to the Bureau of Labor Statistics, lawyers earned a median salary of $122,960 in 2019, and the highest-paid lawyers are those who can negotiate effectively.
With a strong understanding of legal and business principles, attorneys must be able to present their client's case in a persuasive and convincing manner, while at the same time looking for common ground to reach an agreement. Lawyers must also be able to handle negotiations with tact and diplomacy while still protecting the interests of their clients.
10) being able to build relationships
Lawyers must be able to build relationships with clients, colleagues, and others in the legal field. To do this effectively, they need strong interpersonal skills, such as active listening, empathy, and understanding. They must also have a knack for networking, which can help them establish themselves and their practice.
Building relationships is key to successfully handling a case as it helps foster trust between the lawyer and the client. In addition, by networking with other professionals in the field, lawyers can access valuable resources and remain up-to-date with the latest laws and regulations.
11) being able to work independently
The ability to work independently is a key quality that any good lawyer should have in 2023. This means they are able to research and analyze legal issues, plan strategies, and make decisions without needing constant guidance. The ability to work autonomously allows a lawyer to be more efficient and successful in their practice, as it eliminates the need for additional time and resources to be devoted to working with a partner or supervising attorney.
Lawyers must also have the confidence to stand on their own and take initiative in order to be effective in their profession. A recent study conducted by the American Bar Association found that lawyers who exhibited strong independent working capabilities had higher job satisfaction and better overall job performance.
12) being able to solve problems
Problem-solving is an essential skill for any successful lawyer in 2023. A lawyer needs to be able to identify the issues, look at all sides of the situation, come up with creative solutions, and present them to the court or their client. It's a difficult task that requires a combination of legal knowledge, critical thinking, and decision-making abilities.
Being able to solve problems efficiently can make all the difference in getting a positive outcome from any given legal situation. According to research by the American Bar Association, an estimated 93% of attorneys agree that problem-solving is one of the most important qualities a lawyer can possess.
13) being well-organized
Being well-organized is essential for any lawyer in order to succeed. Being organized helps lawyers keep track of their cases, legal documents, client communication and deadlines. According to research, when lawyers are well-organized they're able to work more efficiently and cost-effectively, and they're able to provide better results for their clients.
It also makes them better prepared when they have to attend court hearings or appear in negotiations. In addition, being organized can help lawyers maintain good mental health by reducing stress and burnout. Being organized allows them to focus on the important tasks that need to be done in order to win cases.
14) being able to multitask
Lawyers need to be able to multitask in order to stay on top of all their cases and deadlines. This means being able to manage multiple tasks at once while keeping track of the details. The ability to multitask requires focus, organization, and discipline.
According to a 2019 study conducted by Legal Balance, 82% of lawyers reported multitasking on a daily basis, while over 85% reported having to juggle more than three matters at a time. In order to be a successful lawyer, it is essential to develop strong multitasking skills.
Read, A lawyer strengths and weaknesses
15) being able to meet deadlines
Meeting deadlines is essential for any lawyer, as it not only shows that they are reliable and organized but also that they are taking their work seriously. Lawyers should strive to be able to deliver tasks on or before the due date in order to maintain their professionalism.
According to a study from 2021, 76% of lawyers stated that meeting deadlines were their top priority when it comes to their job. A good lawyer should be able to plan ahead and have strategies in place that allow them to meet deadlines efficiently.
16) being able to think creatively
Lawyers must possess the ability to think creatively in order to successfully navigate the ever-changing legal landscape. In a world where technology advances rapidly and new laws are constantly introduced, lawyers must be able to find creative solutions to legal issues.
For example, more courts are recognizing artificial intelligence-based legal research platforms, and creative lawyers are using these tools to their advantage. Likewise, attorneys can utilize social media to draw attention to cases and generate interest. As such, creative thinking is becoming increasingly important for lawyers in 2023 and beyond.
conclusion
In conclusion, it is clear that there are many essential qualities that a good lawyer should possess in order to be successful. A great lawyer needs to have strong communication skills, research abilities, critical thinking skills, and more.
They must also be able to work independently and think on their feet. By mastering these sixteen qualities, any lawyer will be well-positioned to provide excellent legal representation in 2023.
Read, 10 Benefits of Hiring a Personal Injury Lawyer 2023
FAQ SECTION
How can I be a good lawyer in the future?
If you want to be a lawyer in future you should have this knowledge of Research and analytical skills and many more.
What are the weaknesses of a lawyer?
Poor work habits and time maintenance