Prize money and Match schedule – PUBG Global Championship 2023; Looking at today's naming, you will understand what this article will be about and which teams will participate in your PMGC global championship today, I will tell you about the Match schedule and prize money, and then you will understand why this article is going to be so expensive, So to know these things you must read thoroughly,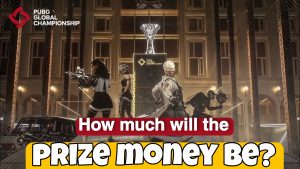 What is PMGC?
Before that, let's give a little idea about PMGC (Pubg Global Championship ). You know, before football, cricket, hockey, and so many other sports, they would only have this World Cup or world tournament, But now e-sports pubg is going to organize a world championship tournament with online games, which will start streaming from the 19th November, The final will be in December 2023.
Iphone 13 pro max pubg mobile sensitivity settings (click here)
Pubg mobile esports team list all over the world
Now I will share with you the list of which teams will participate; Thirty-two teams will participate in the biggest event of the PUBG Esports year, the PUBG Global Championship 2023!
ASIA pubg team
KaiXin Esports,
Petrichor Road,
17 Gaming,
Multi Circle Gaming,
NewHappy
KOREAN participate PUBG team List
Danawa e-sports,
GHIBLI Esports,
MaD Clan,
Veronica7,
Gen.G
JAPAN participate in pubg team
CHINESE TAIPEI
ENTER FORCE.36
Global Esports Xsset
AMERICAS participate PUBG team
Dignitas,
FIUMBA,
Spacestation Gaming
Oath Gaming,
Soniqs,
TSM FTX,
APAC participate PUBG team
FURY,
Attack All Around,
Unicorn Phoenix Da Nang
Buriram United Esports,
Bao Nam United,
ArkAngel Predator
EUROPE participate PUBG team
Team Liquid,
Question Mark,
HEROIC,
ENCE,
BBL Esports
Virtus pro,
FaZe Clan,
Natus Vincere
these teams participate in pubg global Championship tournaments, PUBG MOBILE 3 finger sensitivity settings. read
Prize money Pubg global championship
This tournament prize money has been kept at four million U.S. dollars. this 4 million lots of money, Which will defeat the football tournament, There are also separate prizes,The tournament will also reward the player with the most kills ($10,000), 10k dollars but not less,In addition to the impressive team performance there will be a separate 20,000k dollars, Moreover the lowest ranking teams will make out with $ 10k each.
If you want to improve your gameplay? then this sensitivity will help you to get better performance. Read, Best PUBG mobile sensitivity for iPhone 13 pro max
The pubg global championship is scheduled at different times, listed below;
schedule & results;
Rank Decision Matches Will be held on November 19-21
Full schedule TBC Will
Week 1: November 23-28, Week 2 November 29-December 5
Week 3 will be: December 6-12
Full schedule TBC
Grand Final will be held on December 16-19
Thanks FOR reading
Stay with us for more exclusive update Prize money and Match schedule – PUBG Global Championship 2023
FAQ SECTION
What is the prize money for PUBG tournament 2023
totall prize pool $283,000 USD .
What is the next PUBG tournament 2023?
PUBG MOBILE GLOBAL CHAMPIONSHIP.