Today's main topic is pubg mobile best sensitivity settings with gyro
PUBG mobile The most popular game in the world,PUBG mobile is one of the most interesting games in the world.
Until now, people find themselves differently in this game and can communicate with different people in different countries through this game,
which is to build a good relationship with people from one country to another through this game, because different through this game. You can talk to the people of the country,
pubg mobile best sensitivity settings with gyroscope 2022 & 2023
Sensitivity is a kind of controlling settings, through these settings pubg players make their own game controlling settings in the game,
so I will share with you the control code and the picture with you, how you can fill these settings in the perfect way,
get iphone 14 pubg mobile sensitivity settings
however, You can see below that I have shared the screenshots, you can download and use these screenshots if you want, or if you want,
you can collect those codes with the code given below and enter your PUBG mobile and paste the codes, you can automatically adjust your sensitivity,
Pubg mobile First Free Camera Settings
Free camera settings include first person, 2nd person and 3rd person,These are the three settings you can customize if you want.
• 1st person you keep – [250%]
• 2nd person – [250%]
• 3rd person – [250%]
Best pubg mobile camera settings for iphone 14
This is the most important settings of Pubg Mobile because the players in my settings feel in the game, this camera effect works in the game to say feel,
So today I will tell you how much you will keep it –
Keep 1st person no scope – 55%
2nd person no scope – 55%
TPP Aim – 54%
FPP aim – 51%
Red Dot, Holo – 30%2x Scope – 30%
3x scope – 11%
4x scope – 9%
6x scope – 7%
8x scope – 7%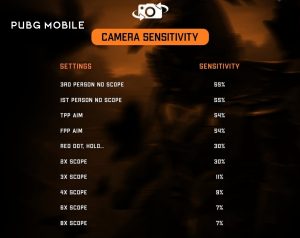 Camera sensitivity Done,
now I will tell you about ads sensitivity,
Pubg mobile ADS settings for gyro and non-gyro players
If you are a gyroscope player this sensitivity is for you""Here is Ads sensitivity –
1st person no scope – 54%
2nd person no scope – 55%
Red dot, Holo – 1%
2x scope – 1%
3x Scope – 1%
4x scope -1%
6x Scope – 1%
8x Scope – 1%
Remember if you are gyroscope players then its will be worked,
Now one of the important step Gyroscope sensitivity
pubg mobile best sensitivity settings for gyro players
Here is gyroscope sensitivity –
1st person no scope – 300%
2nd person no scope – 300%
Tpp aim – 1%
Fpp aim – 1%
Red DoT & Holo – 300%
2x Scope – 300%
3x Scope – 250%
4x scope – 186%
6x scope – 111%
8x scope – 98%
however, One thing to keep in mind is that you have to do this sensitivity setting, that is, you must practice a lot after setting this sensitivity, because you will not be very easy in this setting at first,
you will have to practice a lot,
Moreover, you can easily set automatically through the control code,
sensitivity control code for pubg mobile

Sensitivity Control Code =7007-7960-0048-6588-417
Dear viewers, if you want, you can take 4 fingers & 5 fingers Control Code,
I'll give you the control code,
You can download PUBG mobile control code with pictures,
Given – at First 4 fingers PUBG mobile Control picture with Code –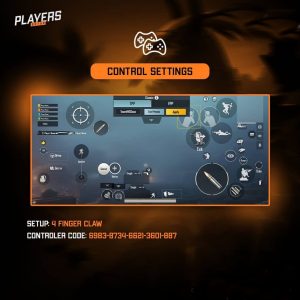 5 fingers PUBG mobile Control picture with control Code

7007-7960-0048-6588-418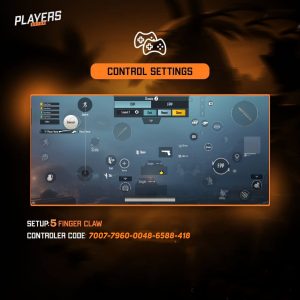 final opinion about best sensitivity
listen, you collect code, all sensitivity settings ,but you need to practice for better performance ,we believe that practice makes man perfect ,
so at the end ,keep practice and improve your gaming performance,share this post with your pubg mobile friends ,
FAQ SECTION
get perfect sensitivity in PUBG mobile
yes! follow this settings -Here is gyroscope sensitivity –
1st person no scope – 300%
2nd person no scope – 300%
Tpp aim – 1%
Fpp aim – 1%
Red DoT & Holo – 300%
2x Scope – 300%
3x Scope – 250%
4x scope – 186%
6x scope – 111%
8x scope – 98%
Thank you for reading
Take care