No one will disagree or dare to say that he will be the best wicketkeeper-batsman in the history of Bangladesh cricket. Yes, I was talking about Mushfiqur Rahim, the wicket-keeper of the national team.
In 1988, the date is May 9 in Bogra Mahbub Habib and Rahima Khatun's house was lit by a child whose nickname is Mitu. Time has passed, Mitu has grown up, has become a soul of cricket, has earned the endless love of millions of fans around the world.
It is a well known fact that this short epic cricketer, who was born in Bogra, is still keeping the signature of his achievement. But we know something different.
So let's go back to the calendar page in 2005 ….
Wicketkeeper-batsman Khaled Masood toured England with the pilot backing up. At that time, on May 26, at the age of 18, Lord's specialist batsman Hesab made his Test debut. Lord's dream place for a cricketer and Abhishek is the 18-year-old here.
Maybe I heard such cheers at eighteen,
This age survives disasters and storms,
This age pioneer in the face of danger,
This age still does something new.
Sukant Bhattacharya's line shots seem to have come down to 17 at that day instead of 17 at the bat of Mitu named Mushfiqur. The back-up wicketkeeper went to England with the team. The 18-year-old cricketer made the team management think anew by scoring 63 and 115 not out in the two warm-up matches of the tour.
In the 1st Test, 17-year-old Mushfiqur Rahim was dropped as a full-fledged batsman at the historic Lord's Cricket Ground. Despite playing two short innings of runs in the match (20 and 9), cricket fans were overwhelmed by his batting technique.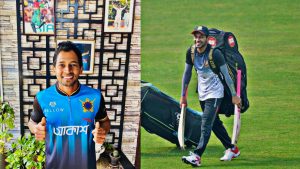 This little fighter, who is 5 feet 4 "tall, has been out of the field for a long time after his uncle's injury. Mushfiqur, who wore a green jersey in the Zimbabwe series in 2006, made his ODI debut on August 6 of that year at the Harare Sports Club ground. Short format did not take long. T20 was inaugurated on 26 November 2006 at Sheikh Abu Naser Stadium.
It didn't take long for Damama to play in 2016, surprising everyone and took a place in the World Cup squad. But he could not take place in the chest of the critic, he was condemned to the critic. But that's probably the case this time.
Eighteen where …..
At this age, Zeno is a coward, not a coward
At this age the path does not stop,
At this age, there is no doubt:
Eighteen came down in the chest of this country with Mushfiqur's bat that day.
In the first match of the World Cup against India, this small fighter responded to all the criticisms with the bat. The beginning of a new path. I also know that this is one of the best innings matches for Mushfiqur so far.
Let's find out then the other best innings shots but look back to that 5 years ago. That is 2015.
Bangladesh started the tournament with a big win against the Afghans in their first match of the 11th World Cup. Mushfiqur scored 61 runs in that match at Manuka Oval with a strike rate of 127.69. He had 6 fours and 1 six in his 57-ball innings. This right-handed batsman was also selected as the best in the match of Bangladesh's victory by 105 runs.
The wicketkeeper-batsman played an innings of 79 off 7 balls in that match against England in another incredible match. Mushfiqur's valuable innings was sorted by 6 fours and 1 six.
Mushfiqur Rahim has played in three World Cups. He collected 510 runs in 20 innings. Mushfiqur, who is going to play in the fourth World Cup, will have extra expectations this time.
Meanwhile, Bangladesh reached the quarter finals of the World Cup for the first time after losing by 15 runs.
His next story is about the journey of little Mushfiq who started in Lord's, which is still going on today in the glory of Mushfiq. Mushfiqur is a witness to every event in Bangladesh cricket, from walking to running. Mushfiqur is the only one to have achieved the Dependable or 360 Man tag.
He has just touched the 2,000-run milestone in a white dress on foreign soil and has been forced to write his name in the record book once again. It would not be wrong to expect Mushfiqur Rahim, one of the best legends of all time, to have hundreds of such records. Because he is our dependent.
Thank you for reading