Today I will tell you about Indian Top Five YouTubers, I hope you will watch and read this post from beginning to end.
You may know that YouTube has become a platform now but it is no less than a movie hero who has got a lot of subscribers and viewers who have become celebrities, people of all ages are moving towards the online platform, now everyone is working on one thing or another on the online platform.  Someone is teaching, someone is entertaining people, someone is doing new creative things, someone is helping people through videos, people are making a lot of money online by making different kinds of videos, and people are getting a lot of love, so you understand this today.  By 2021, a lot of family members are connected online, YouTube launched in 2010, but it was first launched as a beta version in 2000-2005, with people first learning about YouTube since 2010.
  , Since then a lot of people have chosen to create content on YouTube, now people have a lot more than TV  Enjoying Entertainment on YouTube, you may notice that now that people have become more and more interested in online, not as many movies are made in cinemas, now on any online platform YouTube, then movies are released on any kind of entertainment website, because  People can now watch more movies at home for which everyone is moving towards online so people no longer want to go to the cinema, in a word, one of the means of entertainment is now YouTube,
Let's get to the main point –
The main topic of today's post is about Hello Indian Top Five YouTubers –
The first person I ranked in the top five was Triggered Insaan.
5.Triggered insaan;
The main reason for keeping him is that if you watch his content you will never feel boring because he creates content that people enjoy and people enjoy, his YouTube channel has over 10 million subscribers, plus one more channel.  There are around 5 million subscribers of this channel live stream on this channel,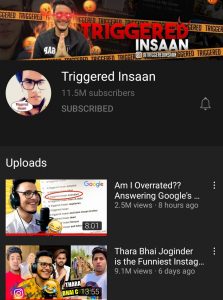 everyone likes him, everyone loves him and everyone supports him a lot, the main thing of his content is that roasting comedy blogs a lot of the time, but most of the time it is rusting.  Yes, he has a lot of family content so you can see about the family, then Sir Instagram has over 1 million followers, so I put him at number 5 on my list,
4. sourav joshi vlogs:
The main reason why Saurabh Joshi is number 4 is because his content is so beautiful and unique and the main reason is that his content is with his whole family, the main thing is blogs, he makes videos on how he does every day, subscribers to his youtube channel.  There are close to seven million, he makes videos on what he does every day and his family people make videos on what other members do and uploads a video every day,

People like to watch her videos. Her daily life style. People don't like these videos. Most of the audience is small children, so her videos have a lot of viewers, and each video has around 10 million views.  So I put him at number four,
3.ashish chanchalani:
Ashish Hutchinson is one of the most successful YouTubers in India, his content will make you laugh, you can watch his content with great fun, his videos are so perfect that people are immersed in his videos, and his channel has over 20 million subscribers.  , His video will be viewed alone in 20+ million plus average,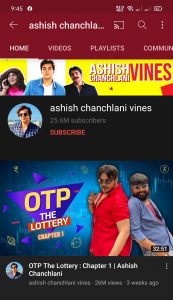 moreover he has won many awards in India for this content, his content will not be so boring to you, so I put it at number 3,
Besides, he is very famous on Facebook and his videos are very popular on Facebook.
2. BBB ki vines ::
BBB KI VINES is so popular that he has won many awards in India many times, his content is so good that as soon as the video is released, his video gets a lot of viewers, the video maintains everything on its own and does not require any team, from writing  Starting with lighting acting everything he does alone, at first he used to make videos on mobile with a less expensive smartphone,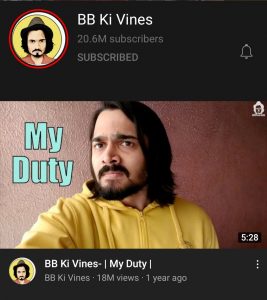 he acts alone, because he creates his content alone, he doesn't have to add any extra people for which he is so far away.  He's gotten a lot of awards, he's got a lot of awards, he's got a lot going on with a smartphone, open his channel in 2010, he didn't have much support at first, he had to struggle a lot  Frustrated, but he did not give up, he started uploading videos every day, then one day suddenly a lot of his video, then the subscribers from those viewers.  He didn't have to look back from the rapper, now he's a YouTuber to keep India's top 1, his monthly income will be around 00 10,000, you can understand how far YouTube has gone,
Now the first Indian YouTuber on my list is On of the Greatest Content Creator of India Carryminati
1.carryminati:
Carryminati is India's top number one YouTuber, I will never skip Handet Percent Seo when you see his contacts. You will not watch a single second. You will not watch the videos on the train. His videos will give you such pleasure for one second.  When you listen to his dialogues, you will smile and you will enjoy him a lot. The content is far away. When you listen to his words, his age, his voice, his J-sound.  -After watching the content, you will be left for hours. Has any train made Ray?
If you've always been a result of YouTube, you may or may not know that a few months ago, YouTube vs. TickTock, a lot of content was trending on YouTube, the main reason for trending is charisma,

Made a video on the subject of TickTock vs. YouTube and the one he roasted, in just 2-1 days the video got over one and a half million views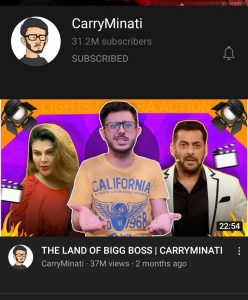 , and he got about 10 million subscribers, a unique in YouTube history.  I put him number one for bringing the record,
30 million subscribers carryminati channel have,
Download independence day photo editing PNG click here
He is the best YouTuber in India, every person knows him,
That was all for today
Wait for next post
If you want more like that concept please comment bellow
MD Bilal hasan